A Hitchhiker's Guide to Physiotherapy
–       A light-hearted attempt to explain what we really do
What is Physiotherapy?
When a patient or client is referred to me I usually ask what their understanding of physiotherapy is or what they are expecting/ wanting to achieve via physiotherapy.  There is usually a range of responses from 'I'm not sure, my GP/ vet referred me' to 'a massage', 'remove my pain/ Tiddle's pain'.  We also seem to have acquired a reputation of inflicting pain and torture, sometimes being referred to as 'physio terrorists'.
So this blog is an attempt to explain what physiotherapy is/ does.
History
Physiotherapy has been around in the human field for years, with recordings of physiotherapy techniques being used by Hippocrates and others in his era.  It became more formalised in the late 1800's, with the Chartered Society of Physiotherapists being formed in 1894.
Physiotherapy in the animal field is relatively recent.  There has probably been the old 'back man' or 'healer' around for as long as we have had working relationships with animals, with variable results and consequences.  However, the formal recognition of the benefits of physiotherapy in the animal field is still relatively new (approximately 30 years) and there are still many misconceptions/ lack of understanding amongst the general public and even the veterinary profession about how we can help animals.
Qualifications
In order to treat humans we have to complete a gruelling 3 or 4 years degree in Physiotherapy, incorporating a gruelling study schedule, multiple exams and assessments and around 1000 hours of clinical placements being subjected to the scrutiny of experienced Physiotherapists in a variety of settings, often encountering scary, challenging and emotional situations.
Upon successful completion we can then become qualified members of the Chartered Society of Physiotherapists (CSP), and the Health Care and Professions Council (HCPC) which enables us to practice on people as Chartered Physiotherapists, adhering to rigorous codes of conduct to safeguard our patients.  Physiotherapists then normally go on to specialise in different areas such as neurology and musculoskeletal.  But that is not the end of it.  We have to continue to provide evidence that we have participated in Continuing Professional Development (CPD), to continue to develop our knowledge and skills and for which we are randomly audited every 2 years.
Chartered Physiotherapists who wish to also practice on animals, then subject themselves to a further 2-3 years of slog on an MSc Veterinary Physiotherapy course to transfer their existing physiotherapy skills to the animal field, again incorporating more exams, assessments and clinical placements.  After 2 years they can practice on animals with a Postgraduate Diploma in Veterinary Physiotherapy.  If they wish they can complete a further year doing a research dissertation to receive their MSc.  Those who have taken this training route can then register with the Association of Chartered Physiotherapists in Animal Therapy (ACPAT) and can also apply to be members of the Register of Animal Musculoskeletal Practitioners (RAMP), a voluntary register of practitioners who have been able to demonstrate a high level of training,
skills and knowledge in the animal field.
What we do
Physiotherapists are highly trained in assessing biomechanics and movement and basically aim to restore normal movement patterns to maximise function, whether that be an elite athlete returning to sport following injury, or helping to maintain mobility in an elderly patient or those with long term conditions.  These apply whether we are dealing with a human or animal patient.
When we see a new patient we carry out a thorough assessment to identify problem areas, such as compensatory movement patterns, muscle weakness and joint restrictions.  We will then use clinical reasoning to decide on appropriate evidence based treatment approaches, which may include a range of techniques such as manual therapies, electrotherapy, gait re-education and exercise therapy.  Different practitioners may use different techniques or approaches- this does not necessarily mean one practitioner is right or wrong as long as it is appropriate for that patient.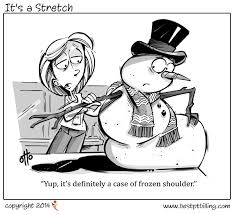 Goals will normally be discussed with patient or owner, such as Beano recovering from a fall to compete at Badminton in three months time, or Harriet being able to get back on her horse following a hip replacement.
As things can change over time, each time the Physiotherapist sees his patient he will reassess and may change his treatment approach or increase intensity of exercises.
Protection of title
The title Physiotherapist or Chartered Physiotherapist is a legally protected title to be used by those who have achieved the appropriate Physiotherapy qualifications.  We are not Chiropractors or Osteopaths.  Although we may sometimes use similar techniques, they are each different professions, with different training routes and qualifications and their own regulatory bodies.  Unless somebody has for some crazy reason undertaken training and qualification in 2 different professions the titles cannot be used by the other professions.  Physiotherapy can only be carried out by a qualified Physiotherapist, although physiotherapy exercises can be carried out by others under the direction of a Physiotherapist.  At the risk of upsetting your therapist/ practitioner and breaking the law, it is best not to confuse/ use terms erroneously.
In the animal/ veterinary field, Physiotherapy is another matter.  At present, the profession is unregulated and where prefixed by the words 'animal' or 'veterinary' there is no restriction as to who can use the title.
In addition to ACPAT Physiotherapists, there is a range of alternative routes into animal physiotherapy.  The quality of training may vary from weekend or online courses to full time degree courses.  There is also a range of alternative practitioners such as chiropractic, osteopaths, massage therapists and other holistic therapists such as Bowen, Shiatsu, and Reiki.  It is not surprising that many people are confused by the wide range of therapists available.  It is not uncommon for people posting on social media for recommendations on equine physiotherapists and being given suggestions of people who are chiropractic practitioners or massage therapists, suggesting they do not really understand the qualifications of the person they are using/ recommending.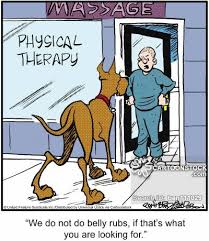 Although not wishing to detract or get into a discussion of pros & cons of different professions, the key thing is to check the level of qualification of the practitioner you choose.  Any practitioner must first have consent/ referral from a veterinary surgeon prior to assessment, will work within their own scope of practice and will liaise/ refer back to the vet if required.
An ACPAT Physiotherapist or practitioner registered with RAMP will have achieved a high level of training and knowledge, and will hold appropriate public liability insurance if, god forbids, anything goes wrong!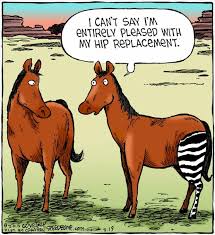 Hopefully this will help to guide people through the minefield of who to choose to treat themselves or their beloved horse/ pet and what to expect from their Physiotherapist/ Veterinary Physiotherapist.
In my next few blogs I will go into a bit more detail about some of the treatments/ interventions used by Physiotherapists:
–       Manual therapies
–       Electrotherapy
–       Exercise therapy