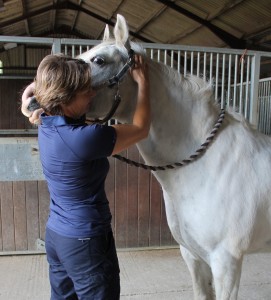 Physiotherapy involves a holistic approach to enhance health and wellbeing in both people and animals. The aim of Physiotherapy treatment is to improve movement and function, helping to optimise performance; facilitating return to activity following injury, surgery and maintaining mobility and pain management for long term conditions.
Following a detailed assessment of movement, strength and function, the Physiotherapist will formulate a treatment plan based on findings of problem areas & dysfunction, incorporating clinical reasoning and evidence- based interventions.
A range of different techniques may be used, such as manual therapy (including massage; other soft tissue techniques; joint mobilisations/ manipulations), electrotherapy and exercise to treat a wide range of musculoskeletal and neurological conditions in humans and animals to aid the patient's return to their usual level of activity. Physiotherapy can benefit conditions such as osteoarthritis, back pain, muscle strain and ligament or tendon strains.
WHY USE AN ACPAT PHYSIOTHERAPIST?
ACPAT stands for Association of Chartered Physiotherapists in Animal Therapy. The term 'Physiotherapist' is a protected title in the human field. Currently this does not apply in the animal field and there are no restrictions on people who call themselves Animal or Veterinary Physiotherapists. ACPAT registered physiotherapists initially qualify as Chartered Physiotherapists within the human field prior to undertaking an MSc course in Veterinary Physiotherapy. They have undertaken rigorous training and follow professional codes of conduct.
Legislation stipulates that animals may only be treated by a Veterinary Surgeon or someone authorised by a Veterinary Surgeon. Members of ACPAT adhere to this requirement to safeguard the interest of the animal.
ACPAT Physiotherapists are widely recognised by the veterinary field and insurance companies. For more information visit www.acpat.org.
RAMP
The Register of Animal Musculoskeletal Practitioners is the gold standard register which aims to endorse best practice methods in the industry of animal musculoskeletal therapy. RAMP registered practitioners follow a strict code of conduct, work within their scope of practice, comply with annual CPD requirements and have appropriate insurance. Further details can be found on www.rampregister.org.
INSURANCE
Many insurance companies recognise the benefits of physiotherapy and will cover costs towards treatment for your animal. If you are unsure if this applies to your policy it is worth checking with your insurance provider to see if you can claim back costs for treatment.